›
9pc Chocolate Makes Everything Better
Customer Reviews
02/18/2021
Victoria D.

United States
For My Sister
I regretfully report that I did not get to taste your amazing looking chocolate haha. I ordered this as a gift for my little sister whose B/F broke up with her. She did text me a very warm thank you, so I bet they were amazing!! <3 I will order some for myself soon, I have celiac so I will just need to make sure they are GF :) Thank you for reaching out and I wish your business all the success!! I do a monthly art subscription box, www.artloversbox.com so if you ever want to send a sample out in our boxes, LMK!
02/18/2021
Stephanie H.

United States
Great Pick Me Up!
I sent the Chocolate Makes Everything Better to a girlfriend who needed a little pick me up. She loved them! She sent me a picture to show how pretty they were and said the different flavors were really good!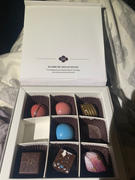 08/31/2020
Geri M.

US
the sea salt caramels are the best in the world!!
Having traveled around the world, Dallman's 'sea salt caramels' are one of the best. Only one tiny chocolate shop in Monaco comes close.